"Scott Murray sings like a bird."
Townes van Zandt
Scott Christopher Murray is an accomplished singer/songwriter and a veteran of the acoustic music scene. Raised in the heart of the Shenandoah Valley of Virginia.
Scott grew up absorbing its rich story-telling tradition and Appalachian music legacy. His first album "The Old Man Dreams," a collection of original material, was a regional success.

Scott moved to Nashville in the early 1990's. While there, he opened for Emmylou Harris, Bruan Bowers, Goose Creek Symphony and Suzy Bogguss. He also shared the state with Willie Nelson, Lyle Lovett, Shelby Lynn, Mary Chapin Carpenter, Kathy Mattea and Henry Gross. Scott was named Grand Prize winner at the Gumtree Folk Festival, and was a regular performer at Townes Van Zandt's bar in Nashville.

Before leaving Nashville and returning home to Virginia, Scott wrote and produced the songs on his second album, "Short Stories." Two of these songs were selected by Virginia-based DCD Records in 1998 to appear on a compilation of Shenandoah artists. Shortly after the release of this compilation, "In the Shadow of the Blue Ridge," the Canadian Games Commission and the Canadian Broadcasting Corporation accepted one song for consideration for the 1999 Pan American Games. The song, "Manitoba, " was written by Canadian Dean Sayln and sung by Scott Christopher Murray.
More YouTube Videos of Scott Murray - A Song For My Brother - A Rock Is Nothing But A Rolling Stone - In June - I am Just A Guitar Picker - Shenandoah - The Mackenzie Twins - See Scott Murry Live >>>
To Book Scott Murray and his Band email shenandoahmusic@hotmail.com
---
In 1999, DCD Records released "Short Stories". Since that time, Scott has opened for 10,000 Maniacs, Dave Mason and David Wilcox. He has received two awards from ASCAP for song writing and performance. In 2000 "Short Stories" was nominated for best contemporary folk album of the year.
Scott Christopher Murray: Short Stories

Scott Christopher Murray - acoustic guitar, vocals
Dean Salyn - piano, backup vocals
Richard Carter - drums, percussion
Ron Delavega - cello, fretless bass
Jack Pearson - electric guitar
Bo Deloach - acoustic guitar

My songs are a moment in time for me, snapshots taken late nights in living rooms, warehouses and studios all across Nashville. It has always been my desire to tell stories and paint pictures with the words and music I write. These short stories are from my heart and hands. " - Scott Christopher Murray
---
Check out the Story on Scott Murray in the New
Issue of "Americana Rhythm"
Shenandoah Valley native Scott Christopher Murray has shared the stage with the artists like Willie Nelson, Lyle Lovett, Shelby Lynn, Kathy Mattea, and Henry Gross. And he "once shared a table (no dinner, just drinks) with Johnny Cash, his lovely daughter Roseanne, her husband Rodney Crowell, and John Prine." He says he spent several hours trapped in an elevator with Kenny Rogers, hung out one morning with Seals and Crofts, had dinner with Waylon, Willie and the boys, and was "once totally disrespected by Wynona Judd." In 2000 his CD, Short Stories, was a Grammy contender for Contemporary Folk Album of the year. All of this from a kid whom most probably thought would struggle to finish school. From the time Scott could talk until late in his senior year of high school, he spent many hours in speech therapy for a severe stuttering disorder.

At 12, the very shy, introverted Murray opted for guitar lessons instead of a study hall because "it sounded a little more fun." That lead to his first guitar, a Suzuki, that he got from a little store in Harrisonburg called Blue Ridge Music Emporium. Scott would hold up in his room for hours playing with his new guitar and experimenting with the three chords he learned in guitar class.
Study Or Play
"I learned every song John Denver ever wrote," he said. But because he was so shy, he kept most of his music to himself. "Being that kind of an introverted personality really played well into spending time on the guitar and writing. I was using my imagination and finding different ways to communicate. But my parents didn't even hear me sing until I was about 24," he said.

Scott's room couldn't hold him forever though. "I got tricked once by my brother into going to an open stage night in downtown Harrisonburg. Someone put my guitar up on stage and told me I better come down there and get it." Scott wandered unassumingly to the stage and was subsequently cajoled into playing a song while he was up there

Time To Move On

When Scott graduated from high school he set out for college and an education in medicine. "My math skills were so bad that I couldn't get past the organic and inorganic chemistry classes," he said. "I ended up at Elon College for a couple of years. I kept switching majors, never really ending up on any particular interest. I finally transferred to JMU."

Scott spent five years at JMU, the early part of it still trying to determine what he really wanted to do. Eventually Speech Pathology surfaced as an interesting direction having spent so much time around it in his earlier years. That interest eventually lead to a career in Audiology, but not before a trip to Nashville to pursue his love of music and writing songs. "I quit graduate school during my first semester because something was missing and I knew I needed to follow what was drawing me. So I spent 10 years focused on my music in Nashville and traveling around playing and writing songs."

Scott said he landed in Nashville on his way out to Austin Texas and lived out of his suitcase for a year and a half. "I was always going to be heading out that next weekend but never really ever made it. I wound up staying in Nashville for almost seven years."

Somewhere Else

Of course, like any artist, for Scott, performing his own music is what really drives him. His girlfriend Jenny said that she sees something different on Scotts face when he's up there on stage. "He goes somewhere else," she remarked. "It just becomes," Scott said. "I don't have to call it up. I'm Scott Murray up until that moment of the first guitar chord, then there's that other something else that just kind of takes over. It's not like being taken over, possessed if you will, "It just … happens," he said. "It's a very safe place." "Is the audience really out there when you're in that moment" I wondered? "Oh yeah, they're out there," Scott said. "You feel the presence, even if there's not good lighting. I like being able to look out there and see them because there's that connection for me there. It's difficult making eye contact sometimes because I do feel that natural need to pull back, but you want to look out there and see if you're reaching someone. And that's what you're looking for. I look for the foot that moves, or the nod, or when someone leans over and whispers, or grabs a hand. I try to write about moments in life, and they wind up being meaningful. They're meaningful to me and that's what I try to put out."

"You look out there and see a tear, that's the most incredible form of a compliment when you reach someone that much. It is a give and take. There's this flow that goes on between me and the audience. It's wonderful to be in, so much to the point that when I get off stage I ask Jenny, 'how was it?' It's like I don't remember. My songs wind up being such a beautiful, sweet, sadness, melancholy kind of thing; it's almost like a baptism as I come out of that song. I want to talk about it. Not so much about the next song, but leading into that next song. I'll just bring up a small story and try to get the levy, watching them lean back and laugh. And then take them down into a song like "In June." And after you immerse them into that kind of emotion, you need to dry them off a bit. So the show gets to be a real neat ride for me. Everything I've ever put into a song, its right there in my face again. Sometimes I sence that 'I can't do that song yet,' I've got to prepare for it and build up to being ready to do it."

Staying On Track

Scott says he usually prepares a set list, "just to kind of keep myself on track," but feeling every moment with the audience, he's often lead to deviate from that list into directions that the interaction between he and the audience dictate. "It's definitely a momentary flow. The show can change at the drop of a hat just because of where you see them being, and then where you want to take it."

"I've started writing some blues tunes. And in the middle of the show I'll drop one of those in. And it's so neat because it takes the audience so out of the realm of where they are, and then I put them back in there again. It's such a journey to take them on. It starts the moment I open my mouth, I begin telling the story. It's a way of weaving magic, so by the time you get to the song, you haven't told them the whole story. It's like, 'now let's step into this.' So you kind of set the stage, and while the whole journey flows together, each song becomes its own presentation."

"I talked to an old Shakespearian actor one time and he was telling me how the best moments are when you get off stage and think 'I have no recollection of the performance.' You were in such that moment. And that's what it is; you fall into the moment with the people you're with. And it's being able to have the command enough to know where you need to put them and where to take them and where you're leaving them, especially if you're opening for someone. You know, maybe they haven't come to really see me, but I want to leave an impression and also leave them in a place where they can easily be scooped up."

It's more about the music than the musician. "It's kind of like being egoless about the whole thing," he said. "Part of not having a total memory of the performance is that it doesn't build up this immense self importance." While Scott certainly appreciates the opportunity to make money playing music, he says it's so much more than that. "I do this because I have to do it. I need to be that expressive. The songs are so amazing to me. They kind of come through you. Any song I've ever done, I look at like, 'oh my gosh.' I can take an objective view. But I'm so hard on myself and my performances, so it helps to know if you made an impact on someone's life."

Because of how Scott performs his show, "I never really play the same song the same way twice. I like playing solo because of that. I can approach each song the way I feel the flow going. That let's me be totally fluid. It let's me come at songs in an angle that I might never have before. And then sometimes I step back and wonder how I did it."

He Writes The Songs

Scott started writing songs when he was sixteen. "You know, that broken heart that causes everyone to write something down." But rhythm alone sometimes is the inspiration for his songwriting. "I'll be goofing around on the guitar and think, 'I like that,' and take that rhythm and build a song around it. Sometimes an idea comes for me in a sentence. I've got this song with the line, "I never heard the call to arms and now the general's gone." It's an acapella Civil War tune. I've got one on my new album with the line, "All my faith is gone, my church is just a building now." It's just those lines that grab you. These huge long sentences will come to me, and then I'll craft a tune around the sentence."

"All my songs have been emotionally successful for me, and that's really the end all in this," he said. "You hope you can write commercially successful songs, but emotional success is the key. They tell such a complete tale for me that it's easy for me to fall back into the songs when I perform them. I'm amazed at my gift, it's quite humbling. If I can look back and think, 'I'm so glad I wrote that song,' that's satisfying."

I'm 45, and this is a great age to be. It's like being able to understand what I want to say and not stumbling as much over trying to find ways to say it. Writing a song now is just as meaningful as it was when I was a late teenager trying to write that love song. It's comforting to me to incorporate my music with my day job as an audiologist because I know I'm getting paid, and I can focus on my music without the pressure to produce income from it.
www.americanarhythm.com
Featuring Music of the Shenandoah Valley, Central Virginia and the Blue Ridge.
When you advertise your Shenandoah Valley business with Americana Rhythm you help support the musical talent of the Valley in which we live.
To Book Scott Call 540-984-8190 or email shenandoahmusic@hotmail.com
See Scott Murray Live
---
Scott Murray and Diane Schwalbach opened a private diagnosis
and treatment center in Harrisonburg Virginia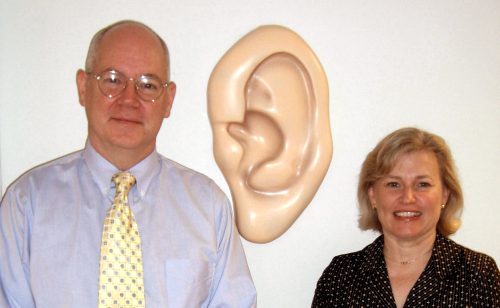 Scott Christopher Murray, one of the Shenandoah Valley's most talented and Grammy nominated singer/songwriters lives a double life. He is also one of the Valley's most well known faces in the field of Audiology. Scott has a Master's Degree in the science of hearing loss. He and Dr. Diane Schwalbach have opened "Audiology Associates Of Harrisonburg, a multi-faceted private practice in Harrisonburg, specializing in the diagnosis and treatment of hearing loss and its associated disorders. For example, Tinnitus or ringing in the ears, Meniere's Disease, which affects the inner ear causing hearing loss and balance problems, Otoschlerosis , abnormal growth of bone in the middle or inner ear, which prevents structures within the ear from working properly, resulting in a gradual loss of hearing. Dr. Schwalbach specializes in hearing loss in children and central auditory processing testing. Dr. Schwalbach is the only Auditory Processing specialist in the Shenandoah Valley. Both she and Scott provide on-going therapy services regarding this disorder. Both Dr. Schwalbach and Scott specialize in the fitting of all types of hearing aids with an expertise in the most remarkably advanced technologies available today. Scott says "not all help for the ear has to break your piggy bank! Let us show you how easy it is to regain a wonderful quality of life." If you are concerned about your hearing, or the hearing of a friend or loved one, take the time to find out more about hearing loss, and what you can do about it. Audiology Associates of Harrisonburg! The name to remember for honest answers, expert advice and incredible results! - Audiology Associates of Harrisonburg VA >>>
---
Community Supported Music in Virginia
CSM puts dollars in the pockets of local musicians, enhances local communities and contributes to a good vibe...
Unfortunately, too many people choose not to care about local music or local music venues. They are unaware of all of the positive things that local music events can do for towns and the local community in which they live.
In order for CSM to work we need to build an expanding membership of musicians and music
venues that really want to take part in this GrassRoots effort. Would like to help? Call: 540-335-8190
or email ShenandoahMusic@hotmail.com
See Also: Virginia Music Business Network by VABusinessNetworkng.com
---
USA Musicians Networking For A Change - USA Musicians Network
Our Objective is to foster and encourage creative partnerships
between business and the arts. - USA Musicians Forum - Powered by GrassRoots Networking
NEW - A Tribute to the BEST USA Musicians
Let's face it people the USA has put out some GREAT musicians from the 1920's to our day!
Check out our new page as of Oct 1st 2008 - And add your favorite musician HERE
We will use the web promotion and marketing skills of WebPromotion.com and get any musician, band, or music venues web site up on the search engines for what ever search terms they desire FREE of charge. - more info
Our Goal is NOT to make money with this site just connect some dots.
We need the help of web designers, writers, video and other creative types of people. If you help out we can pay you with FREE SEO and Business Network with you as well as send work your way.
Musician Services: Web Site Hosting and Promotion For Musicians - FREE SEO For Musicians - FREE Marketing for Music Venues - Americana Rhythm Magazine - USA Musician Supporters
Asheville NC Musicians - CD and DVD Manufacturing Shenandoah Valley - Django Reinhardt Jazz - Hagerstown Maryland Musicians - Chords and Lyrics - USA Custom Built Guitars - Philadelphia Musicians Network - Shenandoah Valley Musicians - Songwriting Organizations - Free Music Classifieds - UpComing Stars - Rock Band Tee Shirt Design - USA Musician Music Magazines - World Music List - Long Island Musicians - West Virginia House Concerts - Twitter For Musicians - USA Open Mics
---
Shenandoah Valley Business Advertising - Shenandoah Valley Business Networking
Shenandoah Valley Website Design with Promotion - Shenandoah Valley Advertising
Shenandoah Valley Web Design
We are looking to network with Art Groups, Musicians, Cultural Art
Centers and businesses in the USA and beyond
We are a full service website promotion and marketing firm located in The Shenandoah Valley of Virginia. Our innovative and proven search engine optimization techniques have ranked more web pages in more top positions than anyone in business in the Shenandoah Valley. Whether it's website promotion, development, design or consulting, we can help get you the results you expect. About us
Shenandoah Valley Free Classifieds
Feel FREE to use our fast and FREE Virginia Classifieds and Forums and Bulletin Boards. Post a message, start a discussion, chat... POST YOUR: Announcements - Events - For Sale - News Items, Post your music show. Start Networking with others in the Shenandoah Valley and beyond. Virginia FREE Classifieds
Back to HOME PAGE